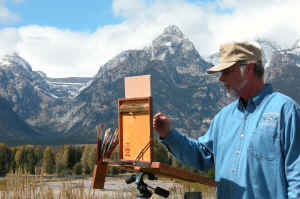 Although he came to art later in life than most, Chuck Rawle has been making up for lost time by working hard to hone his skills as an artist. It started as a pastime and soon became a passion. When Chuck decided to take up oil painting, he sought out the best instructors available. By studying with the best and applying the lessons learned diligently, Chuck has arrived at his own interpretation of the infinite beauty of nature.
Almost without exception, fine artists insist on working from life whether they are painting still life, landscapes, or figures. For Chuck there is no acceptable substitute. When it became apparent that working from life was the best way to paint convincing landscapes, Chuck began painting outdoors at every opportunity while working full time in another occupation. Because of the time constraints of his job, Chuck began looking for ways to increase his painting time. With the support of his wife, they sold their home, bought a recreational vehicle, and began traveling to those locations that offered inspiration and subject matter for his landscape vision.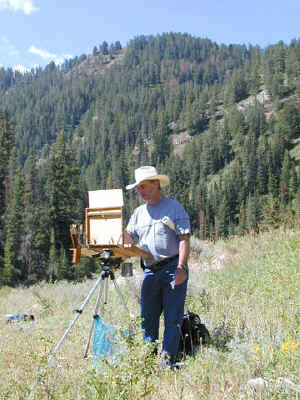 In the last few years, Chuck has painted in most of the western states and the Canadian Rockies. Painting outdoors almost everyday has contributed even more to his education than the workshops. Nature is indeed the best teacher, and a demanding taskmaster. Combining fulltime RV living with fulltime painting was a perfect lifestyle for a developing landscape painter. With an abiding love of the great outdoors and a passion for painting, Chuck feels he has the best of both worlds in a gratifying and stimulating new career.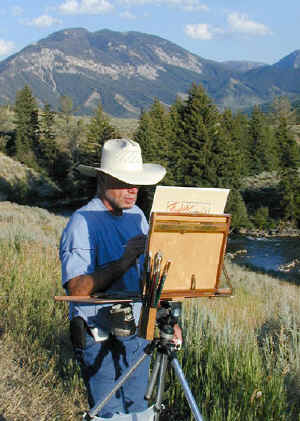 When Chuck puts his brush to canvas, he wants the viewer to be transported with him to some of the most magnificent scenery. He expects the viewer to feel the sun on his face, relax with the tranquility of placid waters, revere the majesty of towering mountains, sense the dampness of a muggy afternoon, or the clarity of clean mountain air. Such an experience gives us all an emotional connection to the beauty of our world. And that connection is how art enriches our lives. Creating such enrichment gives Chuck immeasurable satisfaction.
In addition to galleries, Chuck's award winning work can be found in several prestigious juried shows. His work is also available at Collectors Covey in Dallas, Insight Gallery in Fredericksburg, TX, the Germanton Gallery in Germanton, NC, and the Brookwood Gallery in Brookshire, TX.