Chuck has had a number of great outdoor painting experiences.
During the months of January and February he painted in Texas where it was a little warmer.


Then in March he was drawn to Arizona.


The spring flowers in the Texas Hill Country was like a magnet pulling him back to Texas in April.


In May he was painting the beauty of the Grand Tetons and Jackson Hole area.


June he was painting in Oklahoma as well as attending the Prix de West Art Show.


July he painted in Texas and traveled to the Arbuckle Mountains to paint with the other members of the Outdoor Painters Society. Then it was on to Jackson where he and three friends went on a pack trip into the southern portion of the Wind River Mountains. Painting and hiking all day and sleeping outdoors.


August he again ventured into the Wind River Mountains, this time a pack trip in the northern section with nine friends. Again painting all day and having fireside chats about art in the evenings. After returning from the pack trip, off he goes to Big Fork, MT to paint with the wonderful artists of the Northwest Rendezvous Group.


September he returned to Jackson Hole and the Grand Tetons to paint the wonderful fall colors and attend the Fall Arts Festival.


October found him on a RV Piggyback train trip through the Copper Canyon in Mexico and then following the coast line of the Sea of Cortez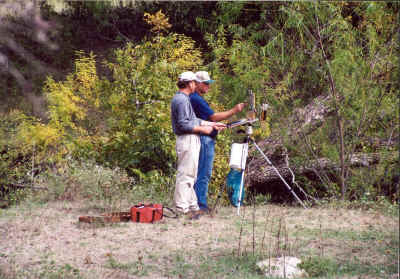 Springtime in the Hill Country of Texas brings everyone out to paint. Here Chuck is painting with Matt Smith.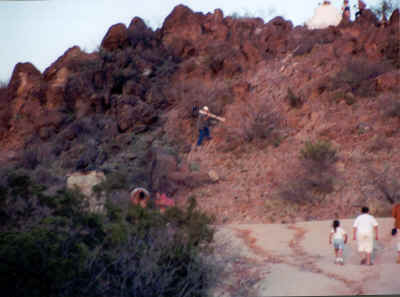 Sometimes you just have to put out a little more effort to get just the right painting. Here Chuck climbs up the hill to get a painting for the Charitable Arts Paint-out in Tucson, AZ. This photo was taken by our dear friend Nancy Bush who is a well known landscape artist. Visit her website at http://www.nancybush.com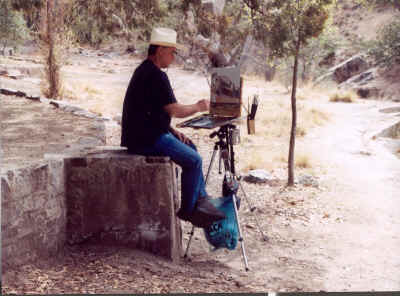 Here Nancy caught Chuck sitting down on the job.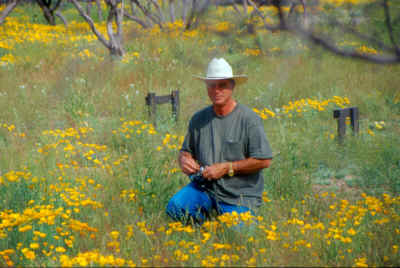 Chuck had been taking photos of the beautiful spring flowers around Tucson when he had to stop to reload his camera. You are never to old to have your photo taken in a field of lovely flowers. The photo was taken by our good friend Suzanne Owens who is a lovely person and also very good artist.
Here Chuck is in Jackson, WY. Chuck spent over many weeks painting the landscape in the Jackson Hole area.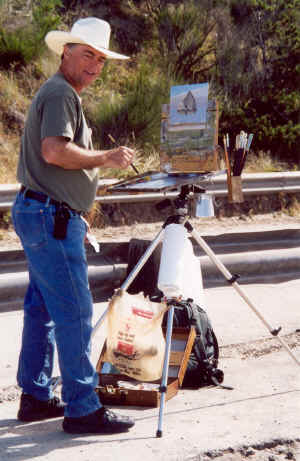 Here Chuck is painting the "Haystack" rock at Pacific City, Oregon.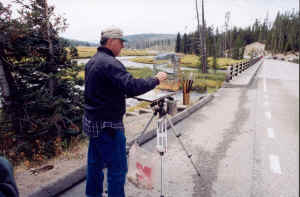 Chuck painting the Lewis River in Yellowstone.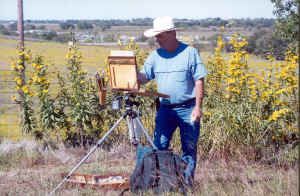 This photo was taken by artist, Jim Rozek while he and Chuck were painting just outside of Denton, Texas.